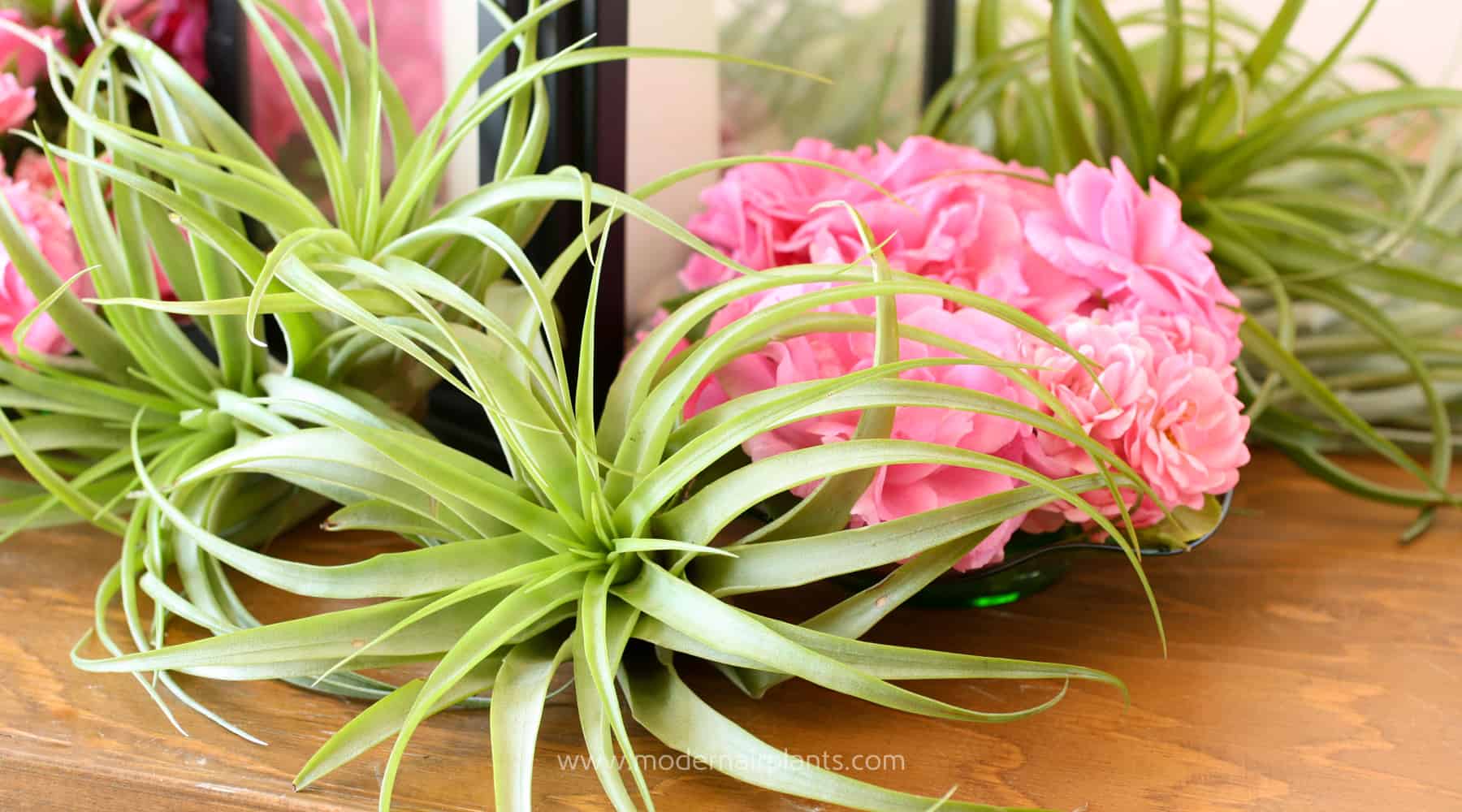 Air Plant Centerpieces
If you're ready to mix things up and don't want to create centerpieces that looks like everyone else's, use air plants. Not only do air plant centerpieces look AMAZING, but they are EASY to use. You can stick them anywhere without worrying about a vase or water. These plants are LONG-LASTING. Water them a day or two before the event and you're good for another week. Bonus: air plants are AFFORDABLE.
This post may contain affiliate links, and I love all the products I promote.
Supplies
A focal point: i.e. a candle, a lantern, a group of candles. Think seasonally. For example, a pumpkin in the fall.

3 small flower vases or bowls, with water

flowers (I'm using roses because my bushes are loaded). Cut several from your yard or grab a bunch from the grocery store. Costco and Trader Joe's are great resources. Here's a few more flower ideas: hydrangeas, zinnias, chrysanthemums, tulips or daffodils.

about a dozen air plants-I use all the same kind for more impact. You could also sprinkle in a few other varieties. Air plant suggestions: xerographica, green abdita, peach capitata.
trash can
paper towels or cleanup cloth
Design Theory
I am not going to overload you here. I have 4 simple rules I keep in mind when creating my centerpieces:
When designing keep the triangle in mind
 Use symmetry and balance.
Complimentary textures and colors will add interest and keep the arrangement from blending together.
Don't be a perfectionist. In nature nothing is perfect and your centerpieces shouldn't be either.
Let's Get Started!
After gathering your supplies, begin with your focal point and vases. Set the 3 vases in a triangle around the focal point.
Mix it Up
Same design, same plants, different focal point, different vases.
Mix it Up
Same design different air plants, different roses
Have Fun!
Designing centerpieces with air plants couldn't be easier, or more fun! Whatever your next event, a dinner with family or friends, or a wedding dinner, with air plant centerpiece ideas in your back pocket, you are ready!